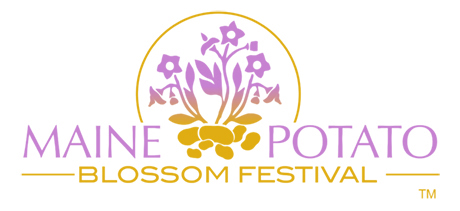 To the Town of Fort Fairfield
Home of the 72nd Maine Potato Blossom Festival
July 13th-21st, 2019
The Maine Potato Blossom Festival humble beginnings started with a conversation between some farmers that it would be nice to gather together and celebrate the potato harvest. In the early years of the Festival it was hosted by several communities in Aroostook County and consisted mostly of dinners which always included potatoes as the main dish, music and fellowship.
In 1947 the Festival settled in Fort Fairfield and has been an annual event every since and now includes over (75) events ranging from entertainment, sports, pageants, Historical Tours, Horse Shows, Industry Dinner, several Agricultural events, displays, Parade, Fireworks, family oriented events and so much more!
This annual Festival is considered a "Home Coming" too many whom plan their vacations around it as well as Class Reunions.
It is also a Tourist destination to many who love to enjoy the many wonderful things Aroostook County has to offer such as Fishing, Kayaking and Canoeing, Hiking, ATV Trails, Breath taking scenery, Amish Communities, Peace and Tranquility!
Plan to come visit us during the 72nd Maine Potato Blossom Festival!
FMI: Please Contact us: This email address is being protected from spambots. You need JavaScript enabled to view it. or 207-227-0749