Riverside Pavilion & Park
The Riverside Pavilion sits overlooking the majestic Aroostook River at the corner of Route 1A and North Caribou Road.
The pavilion is a popular picnic spot, thanks to its scenic location, adjacent playground and multiple covered picnic tables with charcoal grills set amidst acres of lush park space.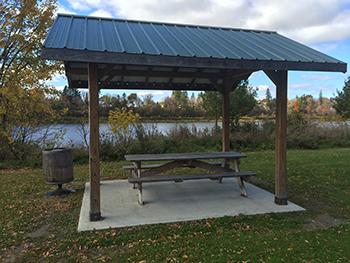 The pavilion features bathroom facilities and potable water. The large covered picnic area has seating for roughly fifty and has a sink to aid with clean-up. There is a boat landing on the Aroostook River nearby.
For more information about Riverside Pavilion, including rental fees and to reserve use of the facility, contact the Fort Fairfield Town Office at 472-3800.
Related Link:
Riverside Pavilion Rental Agreement